Finding a Clinton Township or Macomb County Chiropractor that uses the most modern techniques can be the key to your improved health. Some of the chiropractic techniques that we use includes the following.
Gonstead Technique
Gonstead Technique is a system of analysis that allows the chiropractor to specifically determine the area of the spine potentially subluxated in the patients spine or extremities.
Diversified Technique
This is the classic method of adjustment. Patients usually sit or stand while a chiropractor positions joints for movement. With a quick thrust and shift, the affected area is pushed back into the bounds of normal range of motion.
Thompson Technique
A full-spine adjusting technique that emphasizes high-velocity, low amplitude, and some low-force procedures, using a drop table as an indispensable adjunct.
Flexion – Distraction Technique
Used to treat many conditions of the lumbar spine. It is a non-surgical technique aimed at increasing spinal motion and resolving disc bulges and disc herniations.
Palmer Package
It corrects upper cervical vertebra (in the neck) without twisting or bending the neck and is considered a gentle healing technique. The use of a drop table is required so the chiropractor can use minimal force with extreme precision and maximum results.
Cold Laser w/ Electric Stimulation
Uses infrared light, which one cannot see or feel, to reduce inflammation, swelling and pain. The anti-inflammatory effects of the infrared light work at the cellular level.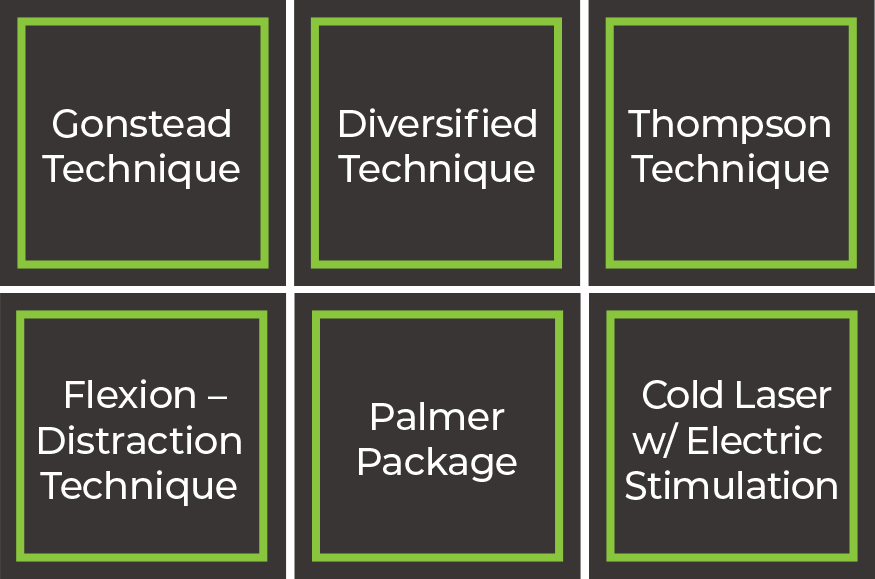 Give us a call at (586) 791-5555 to discuss what chiropractic technique can best help you.